MSRTC Connects All Parts Of Maharashtra
11.04.2014 11:47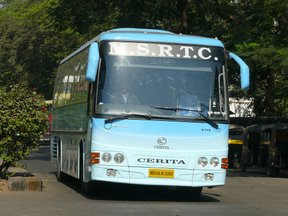 MSRTC | Image Resource : platform7.in
Buses are the best choice for those who do not have their own private vehicles and those who cannot afford the high cost of hiring cabs. There are private buses owned by private companies and associations as well as state-owned buses. MSRTC is the state owned bus service in Maharashtra, India, which stands for Maharashtra State Road Transport Corporation. It is one of the largest transport corporations in India and carries about 7 million passengers daily over 17,000 routes. The buses operating under the corporation run to all the villages, towns and cities in Maharashtra and also to many of its neighboring states.
The Non-AC city buses, Luxury coaches, Mini buses, Semi Comfortable buses, Deluxe buses and fully air-conditioned coaches are some of the buses operated by the corporation. Ticket fares in ordinary buses are affordable by all whereas the ticket prices in AC buses are comparatively high and not affordable by all. Shivneri and Ashwamedh are air conditioned luxury buses and connect all the major cities in the state. The buses are very comfortable and comprises of Volvo buses. Many of them offer long distance services as well.
Booking of tickets in MSRTC is easily done online on the website of the corporation. Here you have the option to check all details like the seat availability, route of buses, ticket prices etc and book your ticket in the bus that fits your pocket. Online booking requires online payment, which is done using your credit or debit cards. You have to take a printout of the e-ticket and carry it with you in the bus.
Kommentare